Skip to Content
Italian Tradition Specialty Items
If you're searching for a unique Italian homemade cooking item and you haven't been able to find anywhere, you've come to the right place! At La Torre Hardware, we carry a wide selection of Italian specialty items to uphold Italian traditions and homemade cooking. From cannoli forms to pizzelle bakers to ravioli trays and pasta makers, we can help you achieve delicious, homemade Italian cooking right from your kitchen. Plus, we offer continental shipping within the U.S., meaning you can get our Italian specialty products anywhere.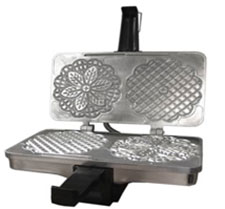 Polished Pizzelle Baker
• Makes two 5-inch pizzelles at a time
• 750 watts
• Steam guard to protect hands
• Extra-thick baking plates ensure even heat distribution
• Polished grids
• Item #220-05P
Price $49.95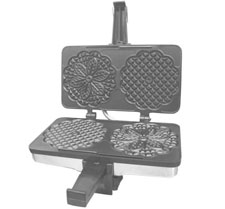 Non-Stick Pizzelle Baker
• Makes two 5-inch pizzells at a time
• 750 watts
• Steam guard to protect hands
• Extra-thick baking plates ensure even heat distribution
• Non-stick grids
• Item #220-05NS
Price $49.99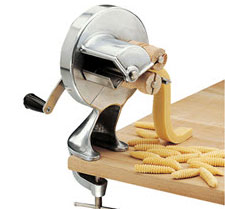 Cavatelli Maker
• Makes traditional Italian pasta shells and large or small gnocchi
• Original design
• Easy directions and recipes included
• Item #530
Price $45.95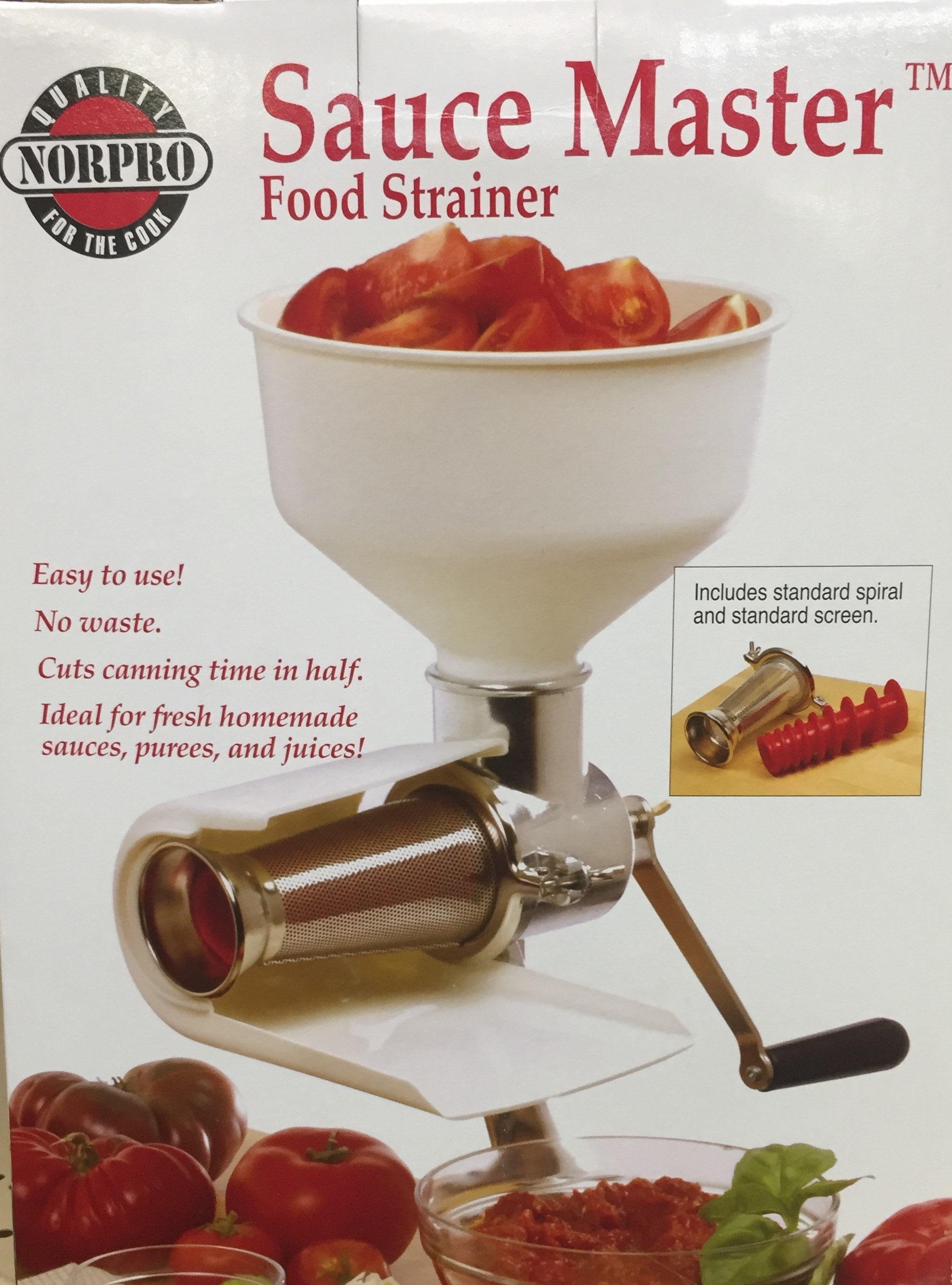 Food Strainer
• Make homemade sauces and purees from just about any fruit or vegetable
• Item #400
Price $59.99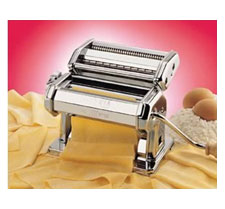 Imperia® Pasta Machine
• 6-inch wide roller
• Includes double cutter for spaghetti and fettuccine
• Additional attachments available
• Item #150
Price $74.99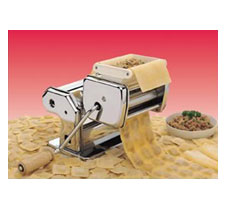 Ravioli Attachment
• Accessory for Imperia Pasta Machine
• Makes rows of three 1-1/4 inch square ravioli
• Item #150-25
Price $64.99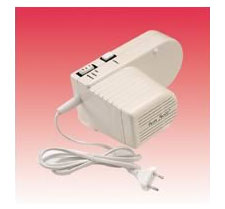 Imperia Pasta Motor
• Electric Motor for the Imperia Pasta Machine
• Item #180
Price $99.95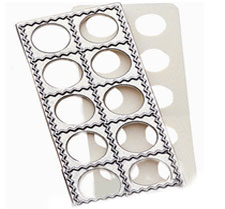 Ravioli Tray
• Makes ten Italian-style homemade ravioli
• Ravioli are large 2-1/2 inch squares
• Item #135-10
Price $19.99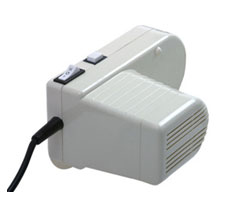 Pasta Machine Motor-1049 & 1049R
Change your pasta machine from manual operation to motor driven. Can be used with #1049, and # 1049R pasta machines.
item #1047
Price $99.95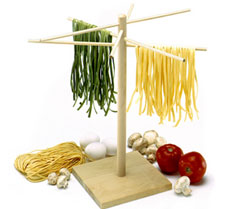 Pasta Drying Rack
Our traditional wooden drying rack is perfect for drying fresh homemade pasta. Has eight arms that are angled so that they don't interfere with each other while drying pasta. Disassembles for easy storage. The unfinished wood keeps the pasta strands from sliding off.
Item #1048
Price $21.99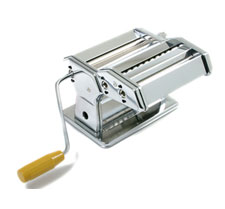 Pasta Machine
Now make your pasta at home!
Made of chrome plated stainless steel with nickel plated roller.
Cuts .06"/1.5mm pasta sheets, tagliolini or .25/6mm fettuccine.
Clamp securely holds machine to table or counter top.
Item #1049
Price $39.99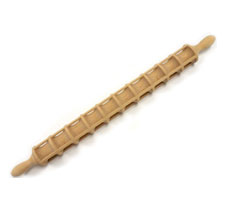 Ravioli Rolling Pin
Make homemade ravioli like Grandma used to. Lightly roll the pin over the dough, place filling in each square, cover with second layer of dough and roll the pin over again. Cuts dough into 1-1/2" x 1-1/8" squares of homemade ravioli! Easy as 1 - 2 - 3. Rolling pin measures 18"/45cm length and 2.5"/6cm diameter.
Item #3085
Price $23.99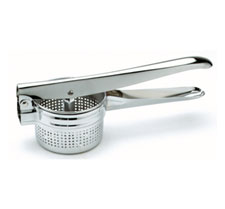 Potato Ricer
Potato ricers incorporate air into your boiled potato's, making them light, fluffy and lump free. Measures, 10.5"/26.5cm
Holds 2.5 cups/20 ounces.
Fits over pots and bowls for no mess use. Shiny triple chromed finish.
Item #162
Price $19.99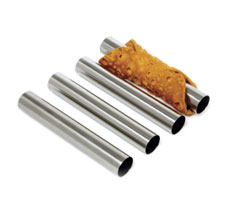 Stainless Steel Cannoli Forms
4 PCS A good cannoli are those made at home and with Norpro cannoli forms this has never been easier. Simply cut a 5" circle of dough, wrap it around a tube and drop it in the oil. Once cooled, the tube is removed to add filling. Made of stainless steel. Measures 5.75"/14.5cm. Set of 4. Item #3660
Price $7.99
Shipping to the US
LaTorre Hardware offers UPS & USPS shipping methods to meet your delivery needs. We calculate our shipping cost for each item and quantity of items you order. Your shipping and handling charges are summarized at checkout and most packages in your order can be tracked via our carrier's website.